Back in January I came up with the idea of producing a mostly-educational YouTube series about motorcycle riding technique and safety. I was searching for an excuse to combine two things I enjoy doing; riding and making films.
I pitched the idea to Bret Tkacs, a professional motorcycle safety instructor, co-owner at Puget Sound Safety, and regular contributor to the popular AdventureRiderRadio podcast. After a couple of meetings we decided to have a go of it!
The plan was simple. Make short educational videos about Bret, motorcycle riding and gear, and publish them quickly. I didn't expect to build an audience quickly, and so far that's been the case. The subscribers are trickling in.
A couple of the early episodes were documentary style and took a full day to shoot, but lately we've been more focused and can shoot a piece in about an hour. Post production averages about one long day per episode which is quick by some standards.
I'm using a DJI OSMO for most of the filming, supplemented by four YI action cameras and a Canon C100 mk2 for zoom lens and shallow focus shots. The whole kits fits in the Pelican top box on the back of the Versys. Initially I carried a selection of EOS lenses for the c100 but I'm finding all I really need is the 24-105mm f/4 zoom.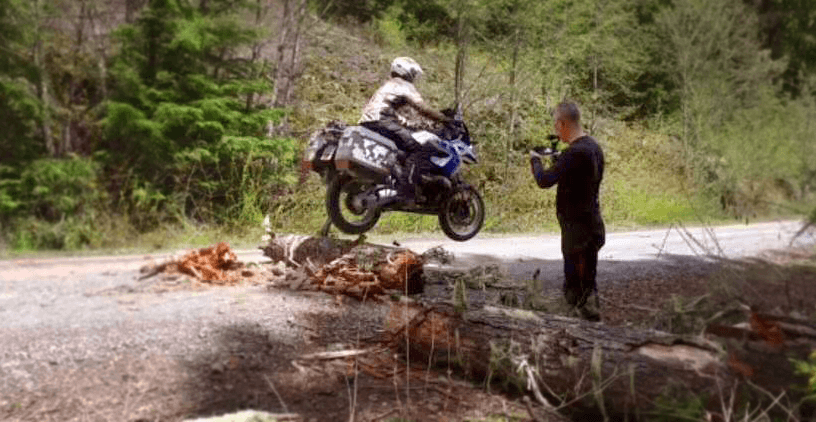 Good audio has been a challenge from the start as we figure out the best workflow. Initially we tried to make the Sena helmet cam the primary audio but the noise cancellation on the is horrendous. It's fine <5mph but terrible at speed because of the wind. Attaching a Rode VMPR to the OSMO and C100 works well in close quarters if the ambient sound is fairly quiet. A Sennheiser lav mic feeding an old Tascam recorder works best, even if the double-system sound needs to be synced up later.
We've shot in a variety of on-road and off-road locations throughout WA state and a bit in OR. So far no problems with the gear bouncing around in the top case for hours on end, even bouncing through the roughest trails of the WA BDR.
Overall these have been fun to produce and Bret has been great to work with. Each episode is better than the previous one, and I expect they'll keep getting better as we refine the process.
The videos are available on the project's web site, MOTOTREK.net, or on our YouTube channel.