I love to work, and I love to explore on two wheels. I've always been that way.
I'm based in Olympia, WA, a very small city on the southern tip of Puget Sound. It rains a lot here, especially in the winter and spring. The rain forests of the Olympic Peninsula are a stone's throw to the northwest and the towering Cascade mountains are a short trip to the east. It's a beautiful part of the country that offers a lot if you can make do with the wet climate.
I've been self-employed since I was 21. During my teens and twenties in RI and NYC I commuted and toured on a bicycle and enjoyed solo trips through New England, northern California, Oregon and through the Rocky Mountains from Yellowstone to Banff. Although I still bicycle around town, these days I'd rather venture out on a two-wheeled motorized machine. When I'm not working I like to explore on the motorbike.
Travelling on two wheels is fun and it makes it easy to meet new people and make friends. Most people find motorcycle travelers both approachable and vulnerable, and that combo is a good conversation starter.
I pack a couple of cameras wherever I go, as well as tools and a few spare parts. On long tours I'll bring basic camping gear but mostly I stay in motels and eat at small restaurants. My armored riding gear keeps me dry and warm down to about 40 degrees F. Ideally I prefer to tour on old highways and back roads that pass through small towns, maybe covering about 400 miles a day, but I've been know to super-slab it from RI to WA in less than four days too. I enjoy riding solo or with friends.
Recently I've managed to combine the two activities I enjoy most, film making and motorcycle travel.
In January 2017 I pitched a concept for a adventure motorcycle YouTube show to professional motorcycle riding instructor Bret Tkacs, a regular contributor to the Adventure Rider radio podcast. A few months later we started filming whenever our schedules were in sync and MOTOTREK was born.
It took six months for the YouTube channel to gain traction, and after a year of steady growth, MOTOTREK has become a leading voice in the niche adventure motorcycle social media market. So far the series has taken us all over the western US and to Mumbai and Bengaluru, India. Bret is now recognized internationally and I get to make motorcycle films. Can't beat that!
I have high hopes for MOTOTREK and I welcome other projects that are as fun and challenging!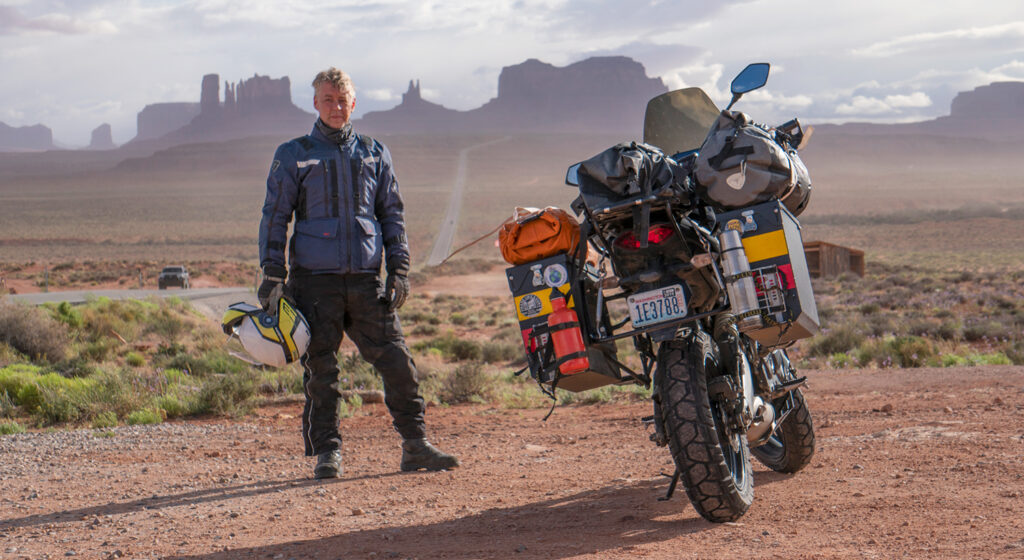 ---
"You see, in my dreams, I am still a boy on a bike. Because when I was a boy, every day was an adventure and a new beginning. Because when we are children, we are reborn every morning, but when we grow older, a little of us dies every night: killed by what ifs and if onlys, by mortgages and bills, dry rot and rising damp. When we travel, though, we are children again. And when we travel by motorcycle, we have nothing to think of when we wake but checking out of a motel, throwing a few belongings into our panniers and riding off down the road, unencumbered by regrets and concerns. On a motorcycle, every day is an adventure and a new beginning. On a motorcycle, I am still a boy on a bike."

GEOFF HILL
Way to Go: Two of the World's Great Motorcycle Journeys